Ladies In Snowshoes High Park Toronto 4x6 Reprint Of Old Photo
Ladies In Snowshoes High Park Toronto 4x6 Old Photo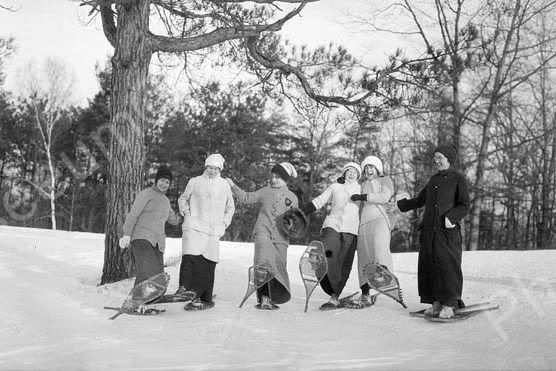 Ladies In Snowshoes High Park Toronto 4x6 Old Photo

High Park is the largest park in Toronto, Ontario, Canada. It spans 161 hectares (398 acres, 1.61 km²). In 1836, John George Howard purchased the property for a sheep farm, at the cost of $1,000.00. It was here that Howard designed and built Colborne Lodge, a Regency-style picturesque cottage in 1837 to complement its natural surroundings as the residence for himself and his wife Jemima Frances Meikle. The Howards named their property 'High Park' as it was situated on the highest point of land along the Humber Bay shoreline. After a successful career as architect, engineer and land surveyor to the City of Toronto, Howard retired here in 1855. In 1873, Howard and his wife agreed to convey their country property to the City of Toronto. There were several conditions to the conveyance, including that the Howards continue to live at their residence, no alcohol ever be served in the park, and that the City hold the park "for the free use, benefit and enjoyment of the Citizens of Toronto for ever and to be called and designated at all times thereafter High Park". The city council voted 13 to 2 to accept the Howard's conditions. The two dissenters felt the park was too far away from the city to be of any use to its citizens. At the time, direct access to the Howard property was only by boat, the Great Western Railway line to the south or a toll road. Soon afterwards the "Road to High Park" was built from the Lake Road to the park lands, today's Spring Road and Centre Road. Howard received a lifetime pension from the City in exchange for the property.

Here is a neat collectible of vintage ladies in snowshoes in High Park, Toronto. Old 4x6 photo. Reproduced photo is in mint condition. This photo will be shipped protected in a padded mailer. Please note the Photoseeum fine print in the foreground of all the photos will not be in the printed version you purchase. All of our photos are developed in photo labs, using the finest photography stock available such as Kodak & Fuji or other quality brand name product. We do not print off our photos on cheap inkjet home printers, like so many other photo sellers here on Shopify. The old saying here applies....you get what you pay for.

Great Photos at Reasonable Prices.


---
We Also Recommend