Jesse James & Frank James Vintage 1872 8x10 Reprint Of An Old Photo
Jesse James & Frank James Vintage 1872 8x10 Reprint Of An Old Photo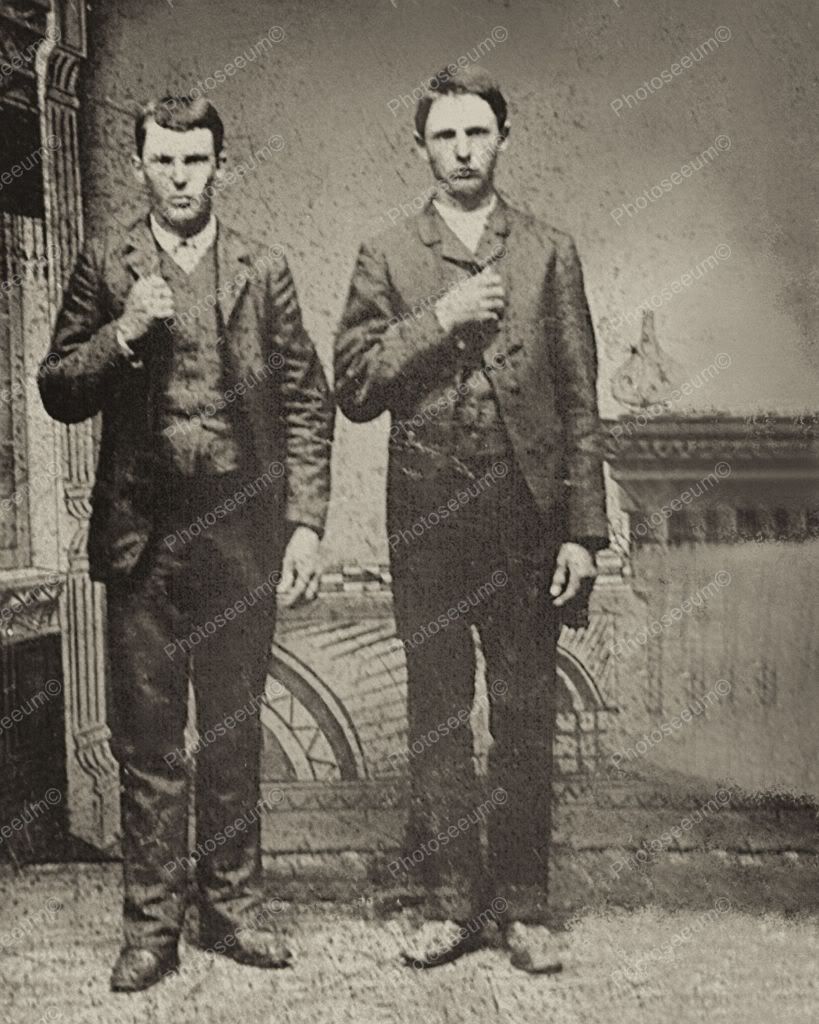 Jesse James & Frank James Vintage 1872 8x10 Reprint Of An Old Photo

Jesse Woodson James (September 5, 1847 – April 3, 1882) was an American outlaw, gang leader, bank robber, train robber, and murderer from the state of Missouri and the most famous member of the James-Younger Gang. Already a celebrity when he was alive, he became a legendary figure of the Wild West after his death. Alexander Franklin "Frank" James (January 10, 1843– February 18, 1915) was an American outlaw. He was the older brother of outlaw Jesse James.

Jesse and his brother Frank James were Confederate guerrillas during the Civil War. They were accused of participating in atrocities committed against Union soldiers. After the war, as members of one gang or another, they robbed banks, stagecoaches, and trains. Despite popular portrayals of James as a kind of Robin Hood, robbing from the rich and giving to the poor, there is no evidence that he and his gang used their robbery gains for anyone but themselves.

The James brothers were most active with their gang from about 1866 until 1876, when their attempted robbery of a bank in Northfield, Minnesota, resulted in the capture or deaths of several members. They continued in crime for several years, recruiting new members, but were under increasing pressure from law enforcement. On April 3, 1882, Jesse James was killed by Robert Ford, who was a member of the gang living in the James house and who was hoping to collect a state reward on James' head.

Here is a neat collectible featuring Jesse James (25) & Frank James (29) pictured on the right, photograped in Carolinda, Illinois. Vintage 1872 8x10. This is a reproduction of an old photo. Reproduced photo is in mint condition. This photo will be shipped protected in a padded mailer. Please note the fine print in the foreground of all the photos will not be in the printed version you purchase. All of our photos are developed in photo labs, using the finest photography stock available such as Kodak & Fuji or other quality brand name product. We do not print off our photos on cheap inkjet home printers, like so many other photo sellers here on Shopify. The old saying here applies....you get what you pay for.

Great Photos at Reasonable Prices.


---
We Also Recommend