James-Younger Gang Vintage 1870's 8x10 Reprint Of An Old Photo
James-Younger Gang Vintage 1870's 8x10 Reprint Of An Old Photo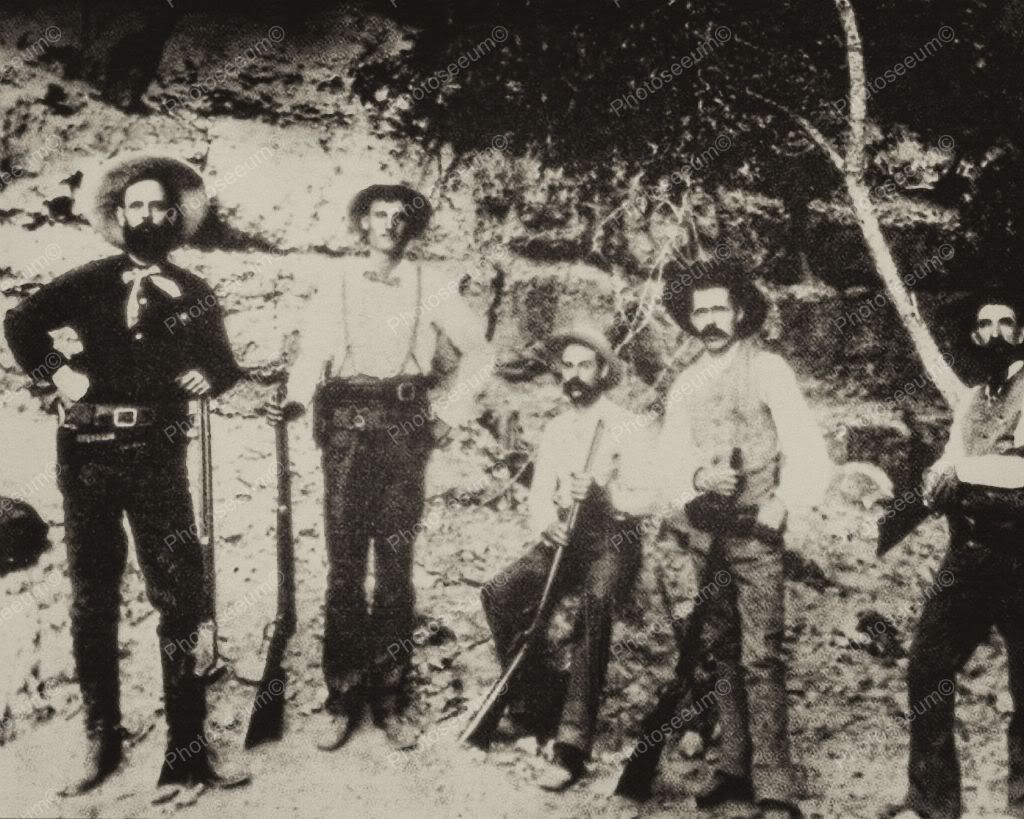 James-Younger Gang Vintage 1870's 8x10 Reprint Of An Old Photo

The James-Younger Gang was a notable 19th-century gang of American outlaws that included Jesse James. The gang was centered in the state of Missouri. Membership fluctuated from robbery to robbery, as the outlaws' raids were usually separated by many months. At various times, it included the Younger Brothers (Cole, Jim, John, and Bob), the James Brothers (the infamous Jesse James and his brother Frank), Clell Miller, Arthur McCoy, Charlie Pitts, John Jarrette (who was married to Cole's sister Josie), Bill Chadwell (alias Bill Stiles), and Matthew "Ace" Nelson. Contrary to frequent reports, the James brothers and Younger brothers were not related, at least not by blood. Starting in 1879, after the demise of the James-Younger Gang, the James brothers committed further crimes with Clell Miller's brother Ed, the Ford brothers (Robert and Charles), Bill Ryan, Dick Liddil, and the Hite Brothers Wood and Clarence.

The James-Younger Gang had its origins in a group of Confederate bushwhackers who fought in the bitter partisan conflict that wracked the divided state of Missouri during the American Civil War. This group's postwar crimes began in 1866, though it did not truly become the "James-Younger Gang" until 1868 at the earliest, when the authorities first named Cole Younger and both the James brothers as suspects in the robbery of the Nimrod Long bank in Russellville, Kentucky. It dissolved in 1876, after the capture of the Younger brothers in Minnesota after the ill-fated attempt to rob the Northfield First National Bank. Three years later, Jesse James organized a new gang and renewed his criminal career, which came to an end with his death in 1882. During the gang's period of activity, it robbed banks, trains, and stagecoaches in Missouri, Kentucky, Iowa, Texas, Arkansas, Kansas, and West Virginia.

Here is a neat collectible featuring the James-Younger Gang Vintage 1870's. Reprint of an old 8x10 photo. This is a reproduction of an old photo. Reproduced photo is in mint condition. This photo will be shipped protected in a padded mailer. Please note the fine print in the foreground of all the photos will not be in the printed version you purchase. All of our photos are developed in photo labs, using the finest photography stock available such as Kodak & Fuji or other quality brand name product. We do not print off our photos on cheap inkjet home printers, like so many other photo sellers here on Shopify. The old saying here applies....you get what you pay for.

Great Photos at Reasonable Prices.


---
We Also Recommend