General William Sherman Classic Portrait 8x10 Reprint Of Old Photo
General William Sherman Classic Portrait 8x10 Reprint Of Old Photo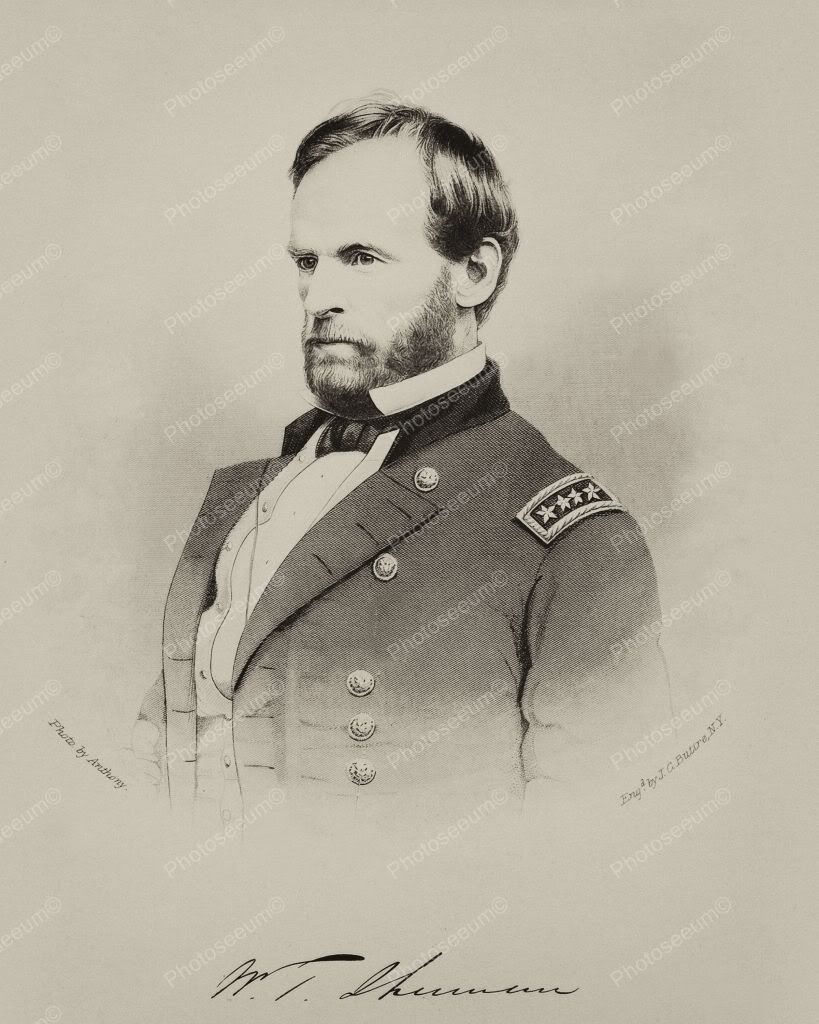 General William Sherman Classic Portrait 8x10 Reprint Of Old Photo

William Tecumseh Sherman (February 8, 1820 – February 14, 1891) was an American soldier, businessman, educator and author. He served as a General in the Union Army during the American Civil War (1861–65), for which he received recognition for his outstanding command of military strategy as well as criticism for the harshness of the "scorched earth" policies that he implemented in conducting total war against the Confederate States.
Sherman served under General Ulysses S. Grant in 1862 and 1863 during the campaigns that led to the fall of the Confederate stronghold of Vicksburg on the Mississippi River and culminated with the routing of the Confederate armies in the state of Tennessee. In 1864, Sherman succeeded Grant as the Union commander in the western theater of the war. He proceeded to lead his troops to the capture of the city of Atlanta, a military success that contributed to the re-election of President Abraham Lincoln. Sherman's subsequent march through Georgia and the Carolinas further undermined the Confederacy's ability to continue fighting. He accepted the surrender of all the Confederate armies in the Carolinas, Georgia, and Florida in April 1865.
When Grant assumed the U.S. presidency in 1869, Sherman succeeded him as Commanding General of the Army (1869–83). As such, he was responsible for the U.S. Army conduct in the Indian Wars over the next 15 years, in the western United States. He steadfastly refused to be drawn into politics and in 1875 published his Memoirs, one of the best-known firsthand accounts of the Civil War.
Here is one of his speeches "You cannot qualify war in harsher terms than I will. War is cruelty, and you cannot refine it; and those who brought war into our country deserve all the curses and maledictions a people can pour out. I know I had no hand in making this war, and I know I will make more sacrifices to-day than any of you to secure peace. But you cannot have peace and a division of our country. If the United States submits to a division now, it will not stop, but will go on until we reap the fate of Mexico, which is eternal war. I want peace, and believe it can only be reached through union and war, and I will ever conduct war with a view to perfect and early success. But, my dear sirs, when peace does come, you may call on me for anything. Then will I share with you the last cracker, and watch with you to shield your homes and families against danger from every quarter."

Here is a neat collectible featuring General William Sherman in a classic portrait, circa late 1800s. Old 8x10 Reprint Of photo. This is an excellent reproduction of an old photo. Reproduced photo is in mint condition. This photo will be shipped protected in a padded mailer. Please note the fine print in the foreground of all the photos will not be in the printed version you purchase. All of our photos are developed in professional labs, using the finest photography stock available such as Kodak & Fuji or other quality brand name product. We do not print our photos on cheap inkjet home printers, like so many other photo sellers on Shopify. The old saying applies here ....you get what you pay for.

Great Photos at Reasonable Prices.


---
We Also Recommend