Ford 1955 4 Door Sedan Vintage Auto 8 x10 Old Photo 2
Ford 1955 4 Door Sedan Vintage Automobile 8 x10 Cars Photo 2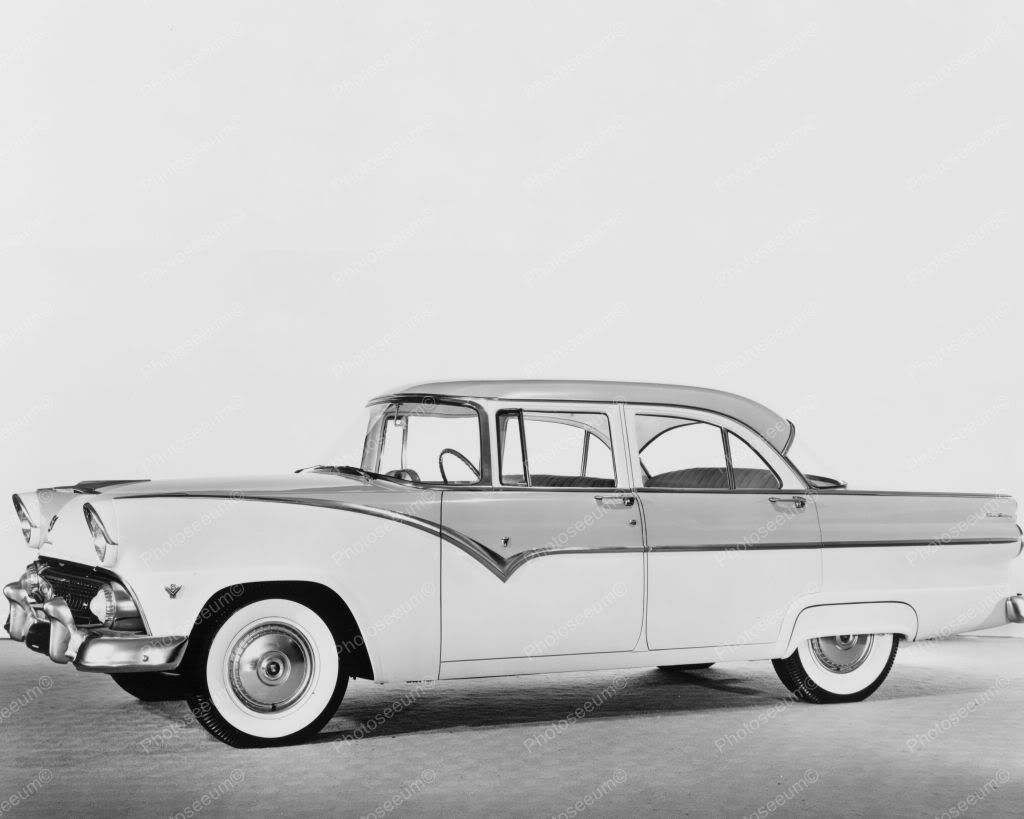 The Fords introduced for 1955 also featured the panoramic windshields found on Buicks, Oldsmobiles and Cadillacs the previous year. With this panoramic windshield the A-pillars have a vertical angle. this gives the driver more panoramic visibility. For the first time, Ford offered seat belts as an option. Customers could also purchase their new cars with air conditioning. This system included a condenser unit in the trunk, plus a pair of air ducts in the trunk and clear tubes which run from the rear package shelf into the headliner, where one found the air ducts. The system was very costly and few units were sold. In 1955 Ford first offered factory installed air conditioning which featured a front mounted evaporator with cold air discharge vents located on top of the dash on either side of the radio speaker. This design was carried over to the 1956 models with slightly different cold air vents in the same location as on the 1955 models. The condenser was mounted in front of the radiator as in later cars.

Great Photos at Reasonable Prices.


This is an excellent reproduction of an old photo on quality photography paper not cheap ink jet stock. Size 8x10 Reprint Of inches. Reproduced photo is in mint condition. This photo will be shipped protected in a padded mailer. Check out my other photo's and vintage collection in my Shopify Store. Please note the Photoseeum fine print in the foreground of all the photos will not be in the printed version you purchase. All of our photos are developed in photo labs, using the finest photography stock available such as Kodak & Fuji or other quality brand name product. We do not print off our photos on cheap inkjet home printers, like so many other photo sellers here on Shopify. The old saying here applies....you get what you pay for.

---
We Also Recommend